How to Be a Location for the Oceanic Odyssey Gridwide Hunt
Deep in the ocean, the underwater city of Pacifica remained hidden from the human world for thousands of years.
Recently a band of pirates known as the Dark Tide has breached the magical defenses protecting
the city and looted their precious treasures.
The mermaid kingdom begs for your aid as a renowned explorer to recover the riches of the city
from the pirates as they are unable to leave the ocean.
It's up to you and the citizens of Seaway Cove to recover the treasures and be rewarded handsomely for your efforts!
Embark on your adventure when you join us for the MadPea Oceanic Odyssey,
a grid-wide hunt this Summer that will set you on an adventure across SL!
The hunt runs from July 13th to August 3rd, but the Oceanic Odyssey Hunt Items are ready for sale now!
If you own a parcel, a sim, a store, or a club and are willing to allow public access, all you need to do is make your way to the MadPea Main Store or visit MadPea on the Marketplace.
Purchase your Oceanic Odyssey Hunt Items, either individually or by the bundle, hide them,
and watch as hunters come running!
MadPea Unlimited Members get a 25% discount on all MadPea Mainstore items*
INCLUDING the Oceanic Odyssey Hunt Items
*discount does not apply to gift cards or game HUD
In case you're wondering why you should get involved as an Oceanic Odyssey Hunt location,
with over 22,000 peas hunting you can imagine the number of visitors to your parcel, sim, store, or club.
Picture the increase in traffic to your location and, since peas love to shop, calculate the potential increase in sales. 
Oceanic Odyssey Hunt Items can be bought and placed out however they will not activate until the hunt starts.
Remember that you can buy and hide Oceanic Odyssey Hunt items during the duration of the hunt.
CHECK OUT OUR AMAZING COLLABORATORS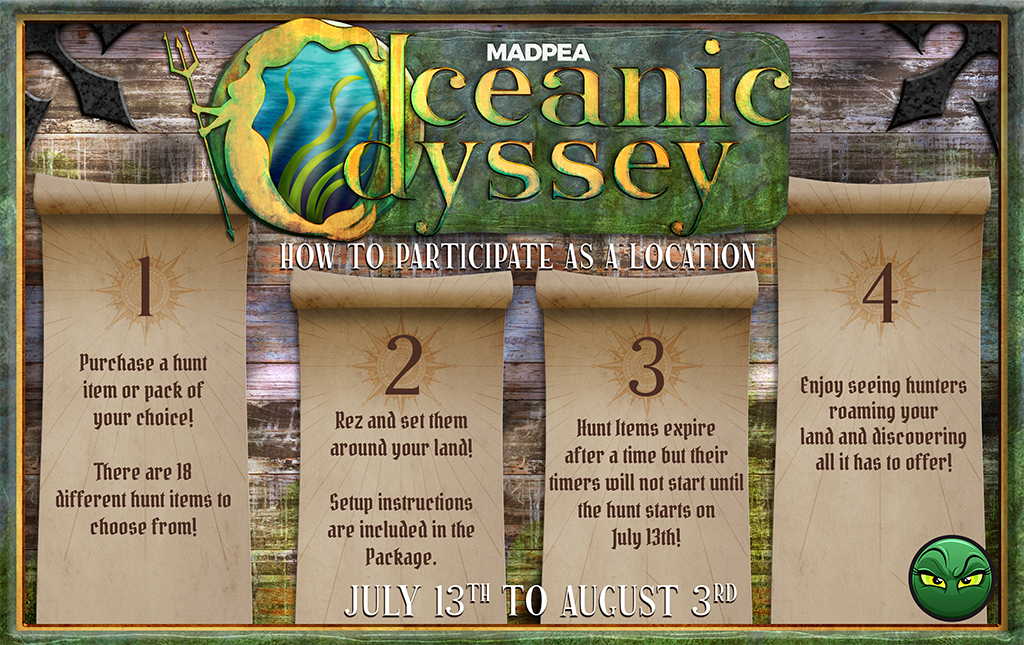 Oceanic Oydssey Hunt Items will be sold individually as follows:
"PeekABoo Pearls" last 24 hours once rezzed and cost L$500 (worth 10 points to hunters)
"Reticule of Riches" last 48 hours once rezzed and cost L$750 (worth 25 points to hunters)
"Cherished Chalices" last 48 hours once rezzed and cost L$750 (worth 25 points to hunters)
"Harmonious Harps" last 72 hours once rezzed and cost L$1000 (worth 50 points to hunters)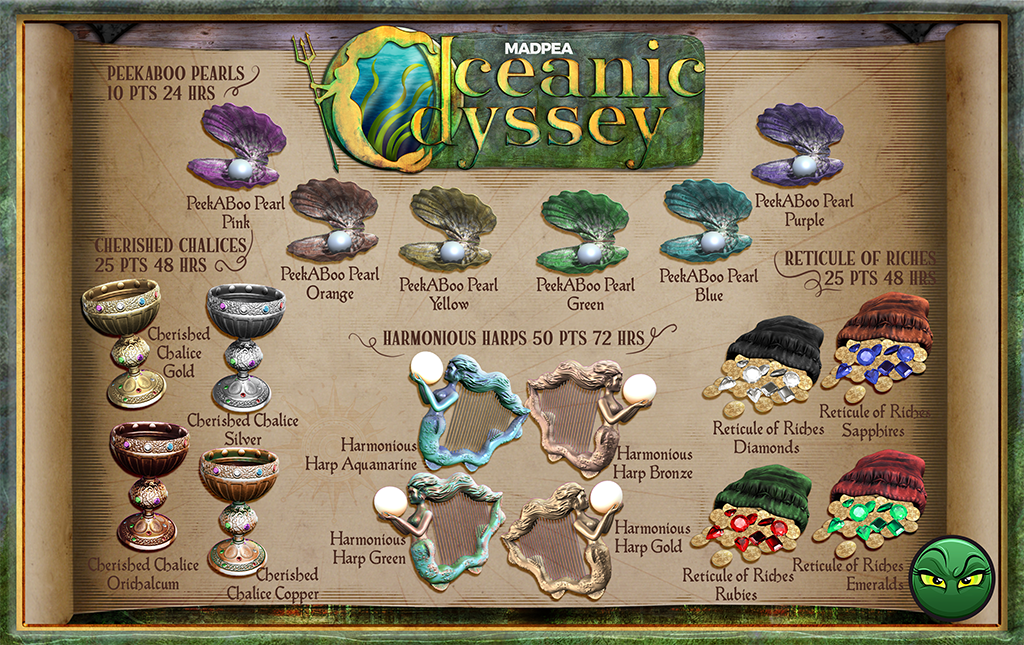 "Merfolk Memories Bundle" contains 2 PeekABoo Pearls, 1 Reticle of Riches, and 1 Cherished Chalice and costs L$2000
(you save L$500)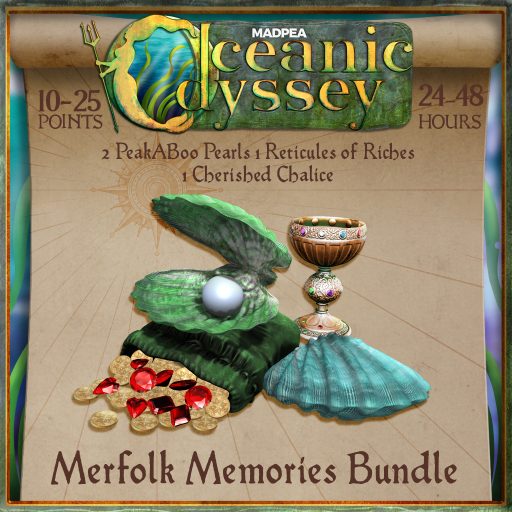 "Treasures & Trinkets Bundle" contains 3 PeekABoo Pearls, 1 Reticule of Riches, 1 Cherished Chalice, and 1 Harmonious Harp, and costs L$3000
(you save L$1000)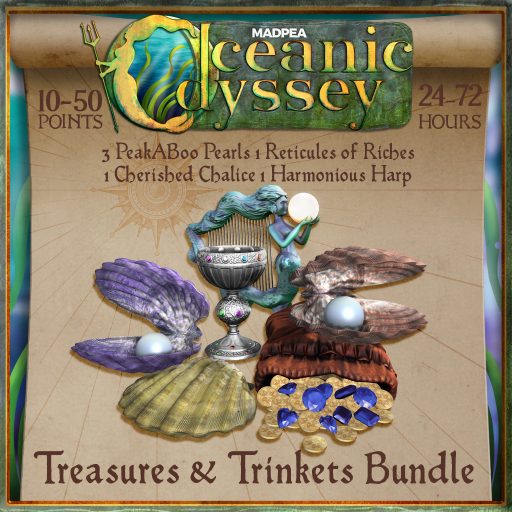 "Pirates Plunder Bundle" contains 3 PeekABoo Pearls, 2 Reticules of Riches, 2 Cherished Chalices, 2 Harmonious Harps, and costs L$5000 (you save L$1500)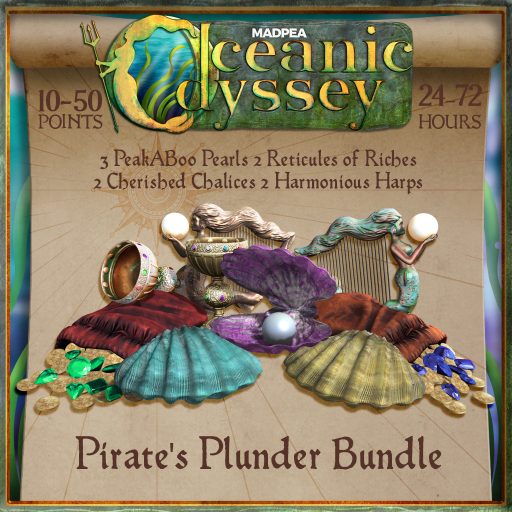 "Raided Riches Bundle" contains 5 PeekABoo Pearls, 3 Reticules of Riches, 3 Cherished Chalices, 3 Harmonious Harps, and costs L$7000 (you save L$2000)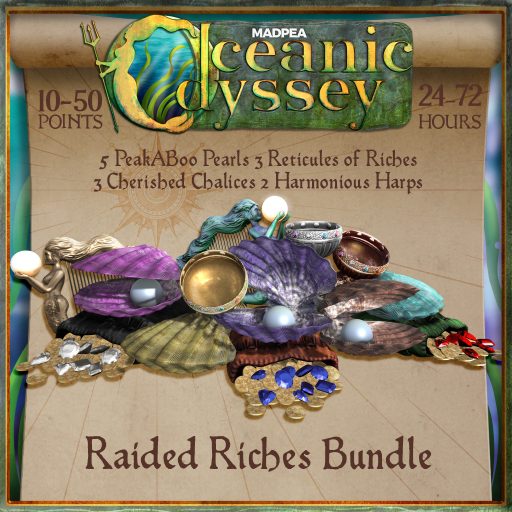 "Buccaneer's Bounty Bundle" contains 12 PeekABoo Pearls, 4 Reticules of Riches, 4 Cherished Chalices, 4 Harmonious Harps, and costs L$13000 (you save L$3000)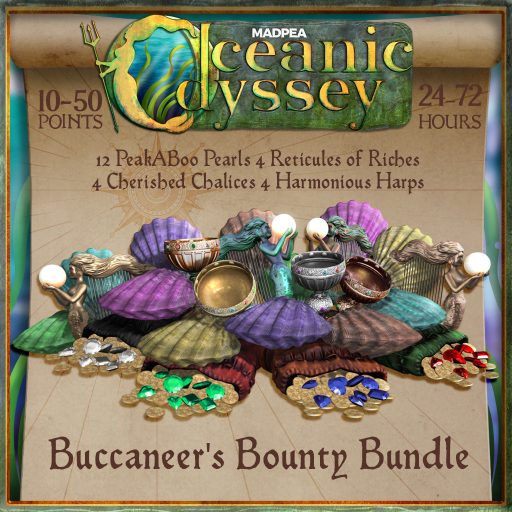 MADPEA OCEANIC ODYSSEY HUNT RULES
NO GRIEFING
The environments you are visiting do not belong to MadPea Productions. They belong to the respective landowners. Thus, do not grief their customers, visitors, members, or residents. Do not break their posted rules.
GROUP TAG RECOMMENDED
When you are playing, we would appreciate it if you wore the MadPea Or Madpea Unlimited Group Tag.
NO LITTERING
Unless otherwise instructed to do so, do not rez or lay any objects from your inventory at any of the locations you will visit in the game.
MALFUNCTIONS
We are aware that Second Life has its own issues that we can not control, such as location logouts, reboots, or lagging and crashing. Should anything happen beyond our control that disrupts or halts the hunt, we will announce it via group notice at the first possible opportunity, providing further instructions relevant to the issue.
REFRAIN FROM BAD SPORTSMANSHIP
Do not harass other hunters or Sim owners, do not instigate conflicts, and if you get stuck, do not whine and complain in group chat. Doing any of these actions will result in the revocation of your chat rights.
GROUP DIALOGUE IS ALLOWED (and even encouraged!)
You are allowed to communicate in the group chat and help each other out. You are however NOT allowed to give out direct slurls to the hunt objects.
HELP! I HAVE A QUESTION THAT'S NOT ANSWERED HERE
First, try our MadPeas group chat in-world, you might get your answer fastest there or you can contact our Support.
MadPea Unlimited Group members have help available in the group chat